A selection of health and medical news stories collected by Dr Abdul Majid Katme. Dr. Katme was born in Lebanon and resides in the United Kingdom, where is spokesman for the Islamic Medical Association UK. A campaigner for natural and Islamic medicine, Dr. Katme presents Islam & Medicine weekly at 2pm Central African Time (1pm UK time) every Sunday on Cii Radio.
Dr Katme is a Qualified doctor/psychiatrist; Leader of the Pro-life Muslim campaign against abortion/Assisted suicide and Euthanasia in the UK/UN. He is also Leader/Spokesman for the humane healthy Prophetic method of Dhabh/Zabiha without any stunning. He presents a weekly TV show in London on IQRA BANGLA in English : Islam for your Health. You can see hundreds of his previous TV shows presented on the Somali channel on youtube by going to: www.youtube.com/drabdulmajidkatme
Importance of Handwashing in medical practice:
REPEATED HANDWASHING: IS AN ISLAMIC ORDER TO MUSLIM DOCTORS, MUSLIM NURSES MOST MUSLIM PATIENTS AND TO ALL MUSLIMS :
MUSLIMS ARE ORDERED TO PRACTICE IT SO WE CAN AVOID A LOT OF CROSS INFECTIONS AND A LOT OF DEATHS AND A LOT OF FINANCIAL COST!
I was interested to read the issue of BMJ on 1st August and I was amazed to see 3 medical studies/reports on the importance of repeated HANDWASHING and the importance to have clean hygienic hands among all medical staff in hospitals in order to avoid : a lot of cross infections to patients a lot of deaths and to save us a lot of money!
THESE ARE THE STUDIES/REPORTS:
-First: IMPROVING HAND HYGIENE IN HOSPITALS-MORE IS BETTER by Matthew P Muller
-Second: COMPARATIVE EFFICACY OF INTERVENTIONS TO PROMOTE HAND HYGIENE IN HOSPITAL:SYSTEMATIC REVIEW AND NETWORK META-ANALYSIS by many authors.
-Third: EMOTIONAL DRIVERS MIGHT IMPROVE STAFF'S HAND HYGIENE by Layla McCay
No doubt the conclusion today is that we are still all FALIING TO HAVE GOOD COMPLIANCE and repeated HANDWASHING among our medics?
It is still a wide global medical problem which is still in need of new alternatives and ways to invent new reinforces in order to have a high rate of COMPLIANCE among our doctors and nurses, especially!
It was mentioned that we still need:
"education, feedback, reminders, institutional safety climate, goal setting, reward
incentives and accountability"
This lack of HANDWASHING and lack of good hand hygiene is still quite a SERIOUS
medical problem affecting our innocent patients and killing many!
If we can mention few facts:
-About 15% of patients are infected in our hospitals
IN ENGLAND alone:
-We have 100 000 cases of infections
-Leading to 5000 deaths annually
-And costing us over 1 £billion/year
Another hygienic issue ought to be addressed as well is the touching often of unclean medical equipment, surfaces and furniture around the patients!
We like in this letter to give some Islamic hygienic HANDWASHING solutions to our
Muslim doctors/ Muslim nurses/and most Muslim patients as they represent a large number today in our clinics and hospitals;
We hope that this Muslim message and reminder to our Muslim medics will help in the reduction of a large number of cross infections and deaths among our patients and save us economically too!
Amazingly these Islamic instructions on Hygiene and REPEATED HANDWASHING arecommon, yet many people are not aware of it:
-FIRST:
Before doing any of our 5 obligatory daily prayers, we are requested in Islam to wash our hands properly 3 times before each prayer: Ablution
Also with the HANDWASHING, we are also required to wash: Our
face/eyes/nose/mouth/throat/arms/ ears/feet and rubbing the front hairs with
water…These repeated hygienic washings will avoid us a lot more of infections !
-SECOND:The final Prophet Muhammad(peace be upon him) has asked us also to WASH OUR HANDS FREQUENTLY DURING THE DAY: like on waking from sleep; and cleaning the nose too
*when coming out of the toilet;
*before and after eating any food;
*after touching our genitals or anal area or that of others(as in a doctor's
examination);
*after touching a dead body(as we do in hospitals)
*after touching any dirty or suspicious thing;
*when a dog is touched,to wash our hands seven times(one of them in the sand);
We are also requested to clean/brush our teeth in ablution before each of the 5 daily prayers. To have our nails cut always. To use always the right hand for clean things and eating and touching family members and in shaking hands …and to use the left hand for other things.And to take steps to avoid cross infection by not taking the germs to a non infected person or to pick up the germs from an infected person. Any Muslim who is obeying GOD and the Prophet and do all these repeated HANDWASHING and all other hygienic measures will be REWARDED BY GOD and all his/her sins related to the sinful use of his/her different organs(hands/eyes/mouth…) will go away with the used water as told by the Prophet . WE HAVE ALL THE ISLAMIC REFERENCES FOR ALL THESE ISLAMIC HYGIENIC AND HANDWASHING MEASURES AND INSTRUCTIONS WHICH HAVE BEEN DESCRIBED IN ISLAM MORE THAN 1400 YEARS AGO!
WE FINALLY LIKE TO REMIND AND TO APPEAL TO ALL MUSLIM DOCTORS AND MUSLIM NURSES AND MOST MUSLIM PATIENTS(some patients are unable to do these repeated handwashing) WHO ARE IN OUR HOSPITALS AND CLINICS : TO PRACTICE THESE GREAT HELPFUL REPEATED HANDWASHING AND OTHER HEALTHY HYGIENIC MEASURES WHICH ARE PRESCRIBED IN ISLAM FOR THE SAKE OF OUR PATIENTS AND FOR THE HEALTH OF OUR NATION.
Sayyiditina Maryam AS – A role mode for holistic health
All the 1600 million Muslims in the world believe and admire the noble VIRGIN MARY , the mother of the noble Jesus (peace be upon them)
All Muslims believe also that the Virgin Mary is:
-One of the Leaders of all the women in the world
-One of the Best of all women
-Is high in HEAVEN
As our Christian and Catholic friends are remembering now the Virgin Mary on the
feast of the Assumption Day on 15th August :
WE MUSLIMS IN THE WORLD WOULD LIKE ALSO TO PRESENT TO THE WHOLE WORLD:
THE VIRGIN MARY AS THE ROLE MODEL TO ALL THE WOMEN IN THE WORLD :
According to the final revelation by God, the Holy Book, AL QUR'AN … and according to some sayings/AHADITH of the final Prophet Muhammad(peace be upon him),the Virgin Mary(mother of the blessed Jesus,peace be upon him) has got many noble characters and qualities,which are very much needed for every woman in the world today!
THESE ARE:
CHASTITY: Many of our girls and women today are participating in a variety of promiscuous sexual behaviours which have proven harmful to them physically, emotionally and spiritually and to society at large. Sexually transmitted diseases abound, most devastatingly, AIDS. From unwanted teenage pregnancies, the vulnerability of teenage single motherhood and illegitimate births to abortion, sexual promiscuity has become a norm.
PRO-LIFE: In an age of abortion on demand(600 innocent babies are killed every day in Britain), abortion as a solution to future financial hardship, abortion of those innocent, yet to be born souls who do not match the ideal of physical or mental perfection, Mary or Maryam in Aramaic and Arabic, was the bravest example of a pro-life woman,with her unusual traumatic and unexpected pregnancy!
MODESTY: (she wore Hijab) Perhaps as never before, a woman and her body has become a mere business commodity, her nudity exposed for all and sundry to see, a tool of
marketing industry exploited to generate sales from cars to pornographic material.
The fashion business, dependent upon the concept of planned obsolescence to maintain continual sales, encourages an almost obsessive preoccupation with what is currently fashionable, irrespective of any moral considerations.
Ever greater displays of female nudity have become the fashion norm with particularly impressionable young girls manipulated into the belief that less is more in the eyes of lustful men. The message is clear; as a sexual object, flaunt your sexuality and sexual availability through fashion.
Mary adhered to the highest standards of modesty through her dress and practicing Muslim women follow her example by wearing the dignified and protective Islamic dress of the hijab which permits only the face, hands and feet to be exposed in public. A woman's public dignity not her sexuality, is paramount.
DEVOTION TO GOD: Mary was a devout woman, frequently at prayer in the temple worshipping God. Today, our girls and women are more often to be found in bars and
clubs, worshipping and aping the behaviour of false idols, celebrities from the fashion and music industries.
Mary was devout in her belief in :
God,THE Provider, the Sustainer of life. From the United Nations to Family Planning
Clinics(population control), fear of financial hardship, food shortages and threats
of a population explosion serve to confirm a belief that sex is primarily a mere
entertainment and not the fulfilment of marriage through procreation. The
contraceptive pharmaceutical, fashion and other industries have much to gain in
profits from the propagation of the above unfounded fears.
OBEDIENCE TO GOD: Mary, and women who obey God's commands of chastity and modesty, are informed, mercifully protected and saved from the manipulation of the gullible by business and government. Instead of obedience and devotion to God, there is the slavish devotion to fashion and celebrity lifestyle and their attendant harmful consequences.
MOTHERHOOD: Mary is the symbol of Motherhood, lovingly devoted to her son, Jesus
(peace be upon him). What status has been conferred upon motherhood today?
The description 'housewife and mother' is often accorded derision instead of respect
and support. Societal, material expectations and financial pressures upon our women
of today, denigrate that most valuable institution of motherhood. Favouring a
woman's contribution to the economic health of society through dead end jobs or
demanding careers, entails huge conflict between her maternal desires and the love
and care a devoted mother can bestow upon her family and thus prevents her
contribution to the health of society at large.
FEMINITY/WOMANHOOD: Mary is the symbol of not only motherhood and all that entails but of femininity. The most noble yet sadly uncherished qualities of woman;
gentleness, compassion and nurturing, have been denigrated in order to compete with
men in their aggressive, exploitative and selfish behaviours. Femininity and
motherhood, defined by God through nature and by Christian and Islamic moral codes,
have now been usurped by a confusing array of sexual orientations and equally
confused accompanying behaviours.
Mary in Islam,has been found too to have these great qualities:
A caring BREASTFEEDING mother and a symbol of NATURAL BIRTH .
Amazingly all these noble great characters and behaviour of the Virgin Mary will
make any woman the MOST HEALTHY(spiritually, psychologically, mentally and
physically…) when practiced!
As Muslims, we revere Mary and her qualities of chastity, modesty, femininity and
motherhood. Indeed, the Holy Qur'an, the literal words of God, devotes an entire chapter(or Surah),chapter 19, named in her honour – Mary(Maryam) . From this chapter and several verses in the Holy Qur'an do we learn as Muslims of her righteous life and Muslim women are exhorted to cherish and promote chastity,
modesty, femininity and motherhood. Depictions of the Virgin Mary, are to be found
in chapters 2, 3, 4, 5, 9, 23, 33, 57 and 61, twelve in all.
More,the final prophet Muhammad(pace be upon him) has said before about Mary:
"THE LEADER OF ALL THE WOMEN OF THE WORLD IS MARY,THE DAUGHTER OF IMRAN"
"THE BEST OF THE WOMEN IS MARY,THE DAUGHTER OF IMRAN"
It was mentioned clearly in the Islamic Holy Scriptures that MARY and her son: Jesus(GOD bless them) ,were protected from Satan! and that Mary was the CHOSEN woman in the world!
Muslims, during our five obligatory daily prayers, recite chapters from the Holy Qur'an which call to mind her noble, pure and pious life and she is most deserved of great admiration and respect.
A Muslim is he or she who submits his or her will to the will of God. Incumbent upon a Muslim therefore is belief in the miraculous conception of the blessed Jesus, peace be upon him. A Muslim will go to Hell if he/she did not believe in the Virgin Mary and her noble son: Jesus (peace be upon them ).
More, we would like to appeal to all Muslim mothers( And Christians too) to name their new daughters Mary/Maryam, in honour of this most beloved servant of God and trustworthy role model.
No doubt, the love and admiration to the virgin Mary and her great noble characters… is the best divine platform …in order to SAVE all humanity!
OFFICIAL: Muhammad Most Popular Name For Baby Boys In London
The most popular name given to newborn baby boys in London in 2014 was Muhammad, according to the Office of National Statistics, after first taking the position in 2012.
The name featured twice in London's top ten baby names, with spelling variation Mohammed coming in a number ten. The name is in 14thposition across the whole of the UK.
Aisha, the name of the prophet Muhammad's final wife and daughter of Abu Bakr, the first caliph to succeed Muhammad, rose 18 places to become the 76th most popular name for British baby girls.
Nationally, George rose three places into seventh position, following the birth of Prince George (pictured above). Oliver and Amelia where the most popular names for boys and girls respectively across the UK.
Top 10 boys' names in London 2014:
Muhammad
Oliver
Alexander
Daniel
Joshua
James
Adam
George
Jack
Mohammed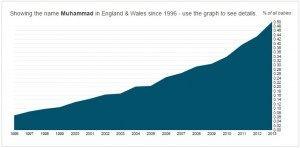 The popularity of the name Muhammad is not limited to London and growth of the name's use has been rapid (see graph above, generated here).
In the North West region Muhammad came fifth. In Yorkshire and the Humber the name Muhammad was fourth and Mohammed was sixth. In the West Midlands region Muhammad placed second and Mohammed was third.
For the full listings, click here.
(BREITBART)
The antibiotic crises
We all become aware today of the serious medical crisis caused by the abuse and excessive and unnecessary use of antibiotics?
The horrifying facts are:
-42 million prescriptions of antibiotics/year
-10 millions are not necessary and not effective
-114 000 prescriptions for antibiotics daily
-51% of patients get easily their antibiotics from their GPs for cough and cold
-Costing us: £192 millions in the UK in 2013/2014
-Leading to SUPERBUGS and antibiotic resistance which do kill 25 000 people in Europe
WE LIKE TO EXPLAIN SOME OF THE CAUSES OF THIS ANTIBIOTIC CRISIS:
-Soft irresponsible GPs… and "Pushy" uneducated patients Prescriptions dictated by the patients?
-Wrong use of antibiotics for virus infections which have no therapeutic effects.
-A lot of antibiotics prescribed by vets ( the Meat we eat have antibiotics)and by
dentists too…
-Antibiotics/antibiotics-like in drinking water/other foods
-The biggest abuse is abroad : buying on the counter antibiotics in
Asia/Africa/Middle East…no need for prescription?
In Britain , the regulations are better as one does need a prescription to get
antibiotic
-The irresponsible PUSH/pressure by the big Pharma /drug industries on doctors to
prescribe their antibiotics?
WE LIKE TO SUGGEST SOME OF THE SOLUTIONS:
First, by addressing all the above mentioned causes and by taking these necessary
measures:
-No antibiotic to give for virus infections
-Educate the patients about the dangers of antibiotics
-Allow the human body to fight infections(Self remittent infection/self healing)
Our bodies are well armed by antibodies and many internal measures to fight
infections especially if one has had a long healthy period of breastfeeding.GOD
has organised well in advance the internal bodily measures in order to get rid of
the intruding viruses and bacteria!
-Waiting period before taking the antibiotic
-Avoiding Stress
-Avoiding cross infection
-Repeated Handwashing/good hygiene
-Some natural Alternative medicine: NATURAL ANTIBIOTICS like:
Garlic, onion, honey/propolis, echinocea , green tea , colloidal silver , ginger,
essential oils , homeopathy….